Security Enhancement for MFA
At Emburse Certify, application security is one of our top priorities. In order to enhance the security of the application around user reimbursements, users will now need to complete multi-factor authentication before they are able to add or update direct deposit information.
Users who have not already completed the MFA process and attempt to add or change their bank information using the link on their Account Settings page (pictured below) will be redirected and asked to type in a code sent to their phone or email address to verify their identity. After typing this code correctly, they will be able to continue the update process.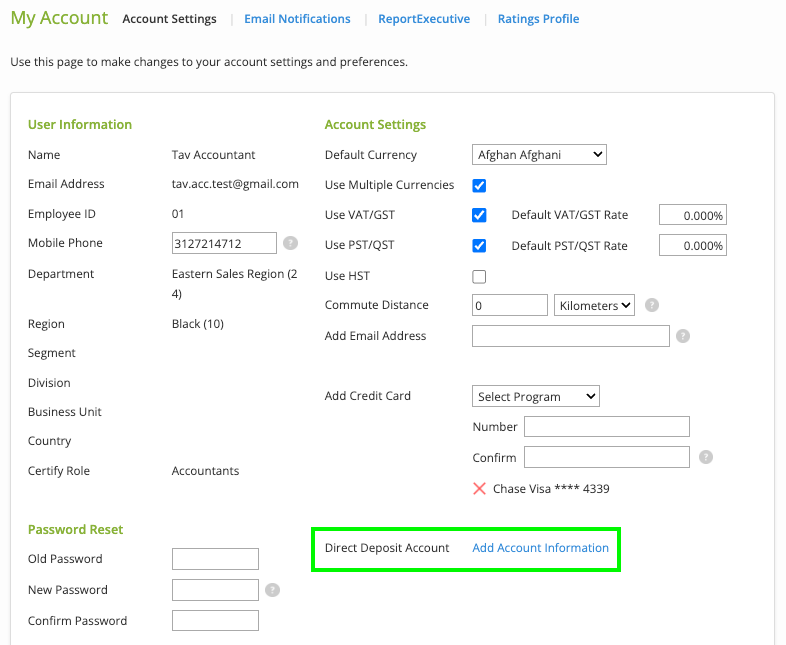 Administrators delegating or masquerading into an account to make these updates will also need to multi-factor authenticate if they haven't done so already.
New and Improved Single Sign-On Page
We're pleased to announce a redesigned version of the Single Sign On (SSO) page, which can be found at https://expense.certify.com/SingleSignOn.aspx. Administrators can navigate to this page, which is used to set up SSO details and welcome emails, by clicking the Configure Single Sign On link on the Configuration page.
The updated page represents an incremental move to modernize the look and feel of the Certify application, with more updates to be made in 2023/2024. The page will function exactly like its predecessor.